World Environment Day is approaching. AEON MALL Binh Tan join hands to act for a Green – Clean – Beautiful environment and a joyful and healthy summer with a series of attractive events. within the framework of ECO Event 2023 – Recycling Waste – Creating the Future.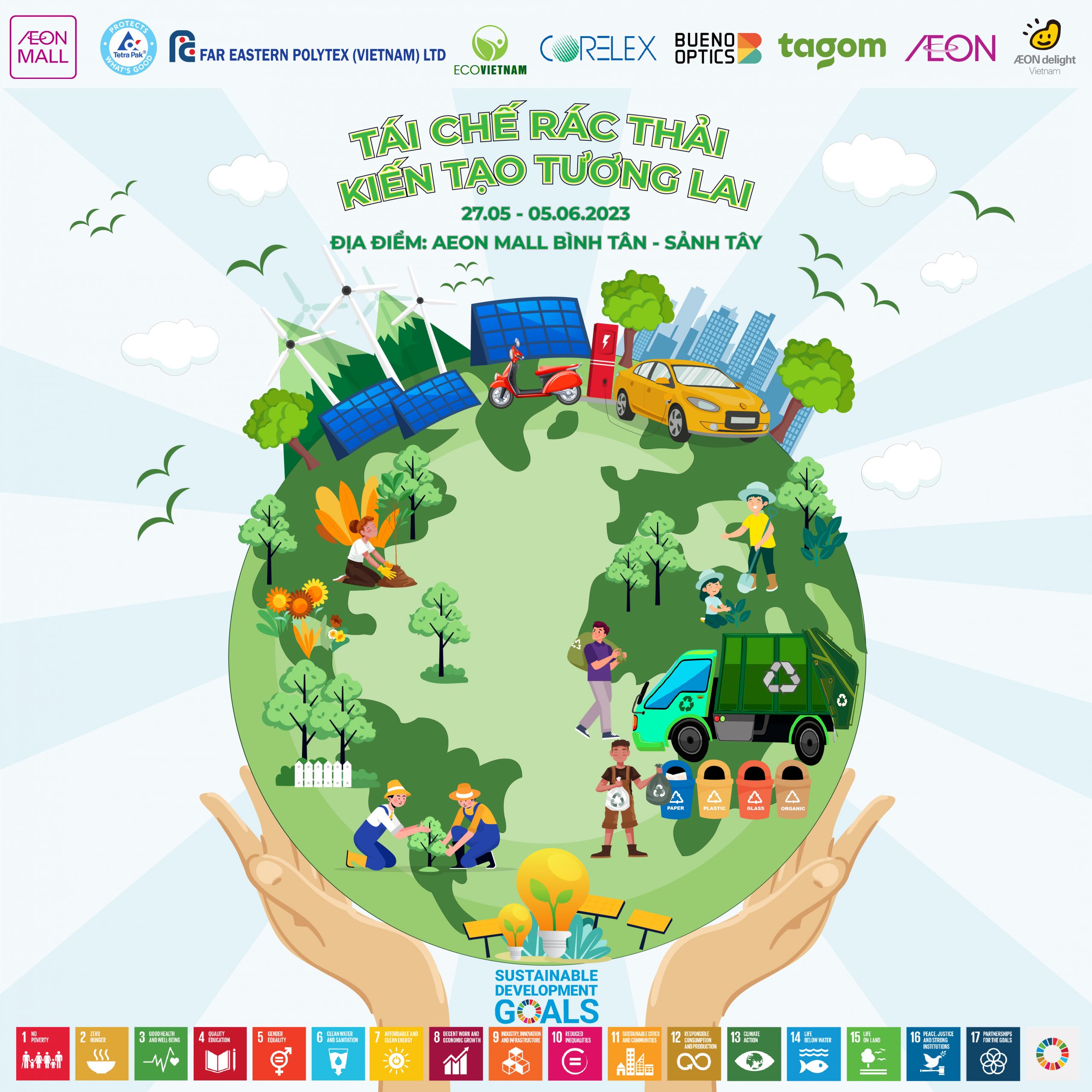 Location: WEST Lobby – AEON MALL BINH TAN
Collect and recycle PET bottles with Far Eastern Polytex VN (FEPV): 27.05 – 05.06.2023
How to identify PET plastic bottles:
You can easily find PET bottles in soft drinks, soft drinks, mineral water, etc., and often have the number 1 symbol on the bottom of the bottle or the body of the bottle.
Step 1: Collect 15 transparent PET bottles
Step 2: Remove the lid
Step 3: Remove the label
Step 4: Twist the bottle
Recycled PET bottles can be recycled into useful items such as sports shoes, new clothes, new plastic bottles and more.
Bring 15 used PET bottles in exchange for 1 pair of super quality socks made from 100% recycled plastic by Far Eastern Taiwan!
Collect and recycle paper drink boxes with Tetra Pak: May 27 – June 5, 2023
Just bring your used beverage cartons to Tetra Pak's booth, you can instantly redeem lovely gifts and participate in exciting activities such as mini-games of garbage sorting, dropping balls and more and more!
Don't forget to handle milk cartons properly to avoid waste and make sure we're contributing to the reduction of waste by following these very simple steps:
✔ After drinking all the milk, fold the paper box to both avoid waste and keep it clean
✔ Insert the plastic cover and straw inside the milk carton
✔ Tidy up milk cartons to save space and pack as many cartons as possible
Collect cartons with CORELEX: May 27 – June 5, 2023
Let's come to AEON MALL Binh Tan to protect the beloved Earth!
———————–
AEON MALL Binh Tan
Address: No. 01, Street No. 17A, Binh Tri Dong Ward, Binh Tan District, Ho Chi Minh
Website: https://aeonmall-binhtan.com.vn/
Zalo: https://bom.to/ZaloAEONMALLBinhTan
TikTok: aeonmall.binhtan https://www.tiktok.com/@aeonmall.binhtan
———————–
DOWNLOAD APP INSTANTLY:
App Store: https://bom.to/AEONMALLVietnam
Google Play: https://bom.to/AEONMALLVN